This Award-Winning Design Transforms the Way You See Public Health
Project | November 01, 2018 | Connie Tam
It is hard to imagine that the services currently provided at the award-winning North Bay Parry Sound District Health Unit were once housed in three cramped, leased locations.
A collaboration between Mitchell Jensen Architects and Carlyle Design Associates, the new public health unit draws inspiration from its natural surroundings. Windows that stretch from ceiling to floor offer visitors a view of Lake Nipissing, while wood and stone elements speak to its home in Northern Ontario.
But to appreciate the significance of this project, we need to examine it in the context of the nation's public health programs.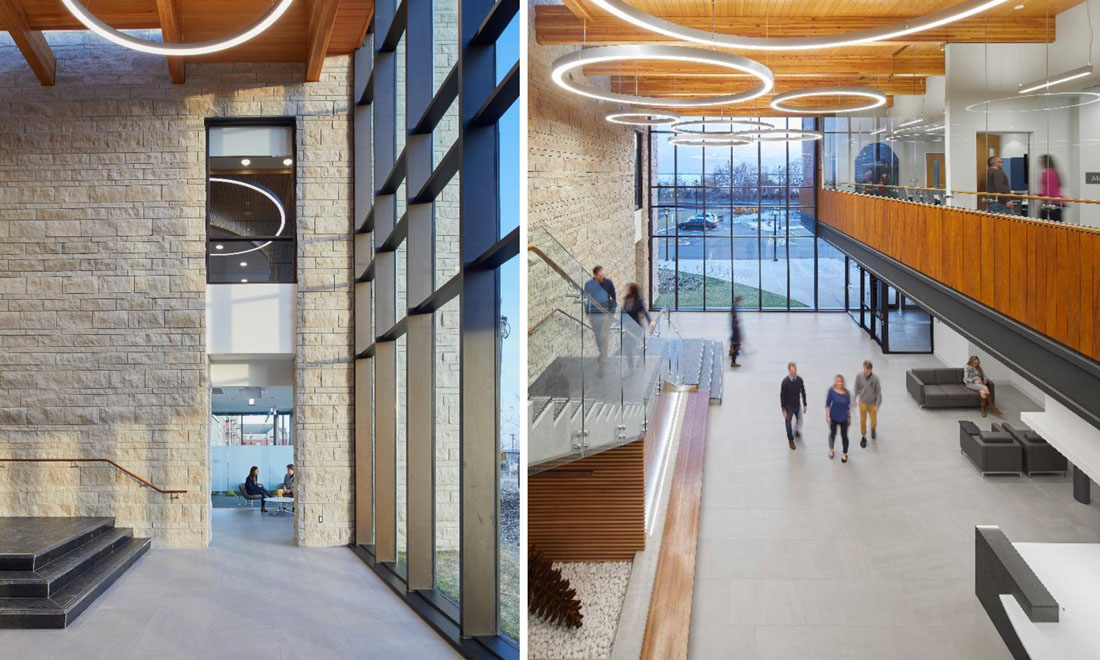 Natural light pours through the windows to create a warm, bright main lobby. (Photography by Lisa Logan from Building Magazine)
With only 3 to 4 percent of healthcare funding going towards public health, programs for disease prevention and health education have long struggled with tight budgets and low profiles. Members of the North Bay and Parry Sound communities had sought care in places like an old high school and a teardown building. These built environments were not only inadequate to support staff, but also discouraging to clients who needed integral services.
The North Bay Parry Sound District Health Unit has transformed healthcare access for the thirty-one communities it serves. Recently honored by Canadian Interiors as a Best of Canada winner, the project celebrates the beginning of long-awaited change.
As principal designer Anne Carlyle describes it, the new building "brings public health into the public realm."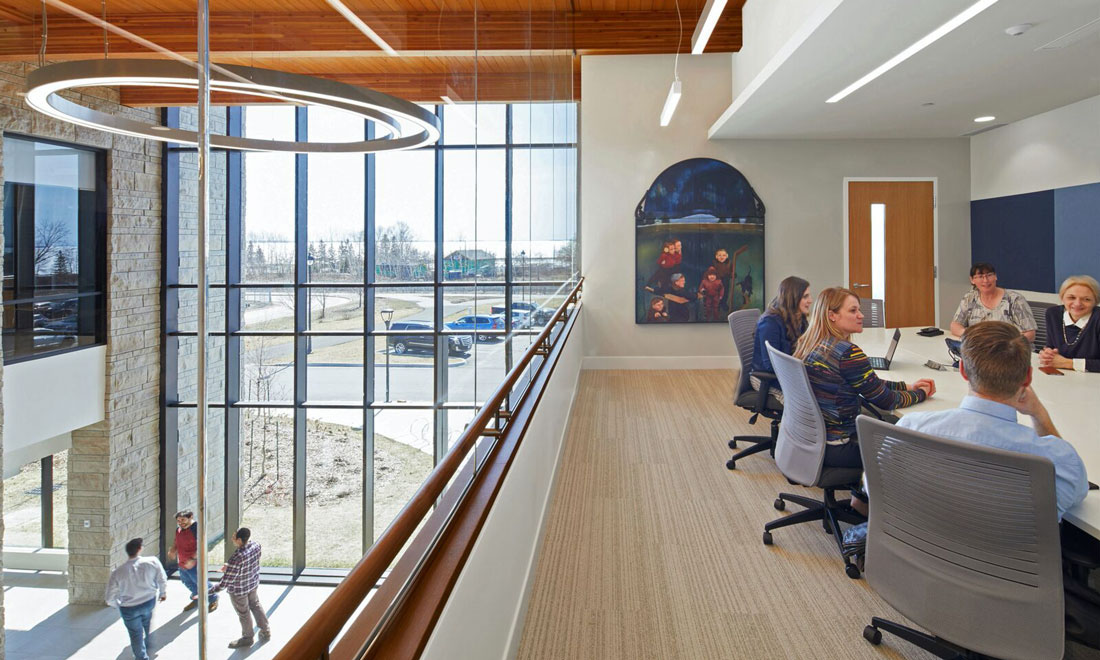 Glass panels offer views over the lobby in this meeting room featuring Loover seating. (Photography by Lisa Logan)
The warm, bright design encourages connections between staff and visitors. Dental care, maternal support, health education, and other crucial services can now be accessed in a single location. North Bay's downtown core is currently undergoing regeneration, so the health unit also helps draw activity to local businesses and the nearby lakefront.
The challenge was to accommodate many services into 58,000 square feet. It required thorough design planning and inclusive, early-stage consultations with frontline staff; a key project goal was to promote staff wellbeing.
"We set up a structured system of neighborhoods in the office space," Carlyle explains. "The infrastructure adapts to the growth of programs and will hopefully have longevity." With a mix of offices, clinical and community spaces, the interior design balances a welcoming atmosphere with necessary visual privacy.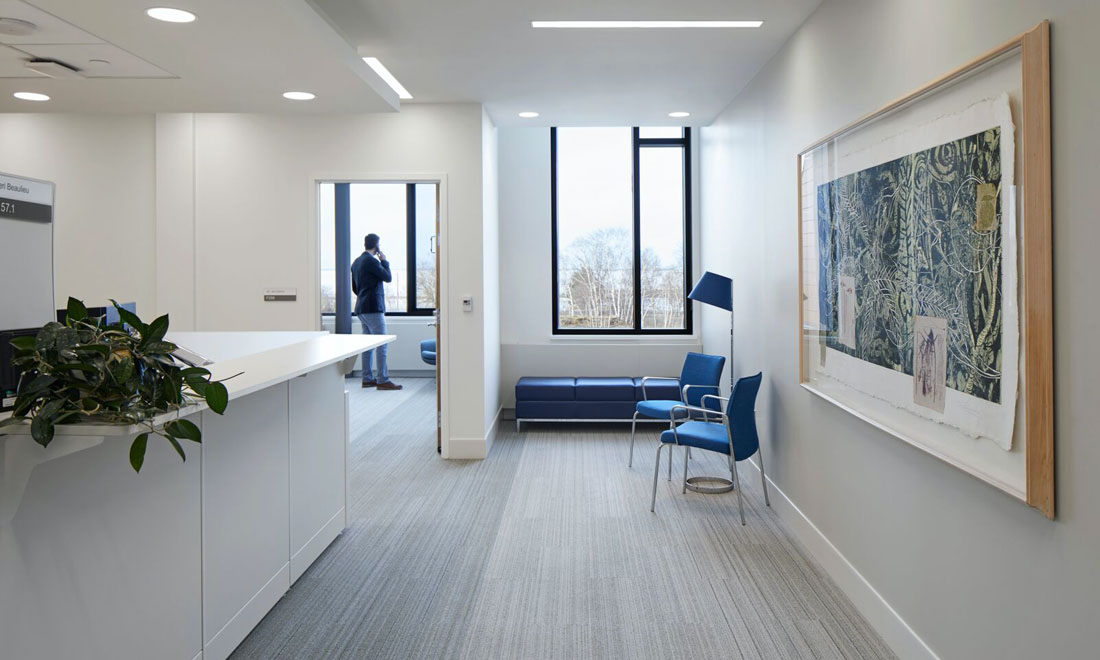 Local artwork hangs in this reception space with the Citi Square bench. (Photography by Lisa Logan)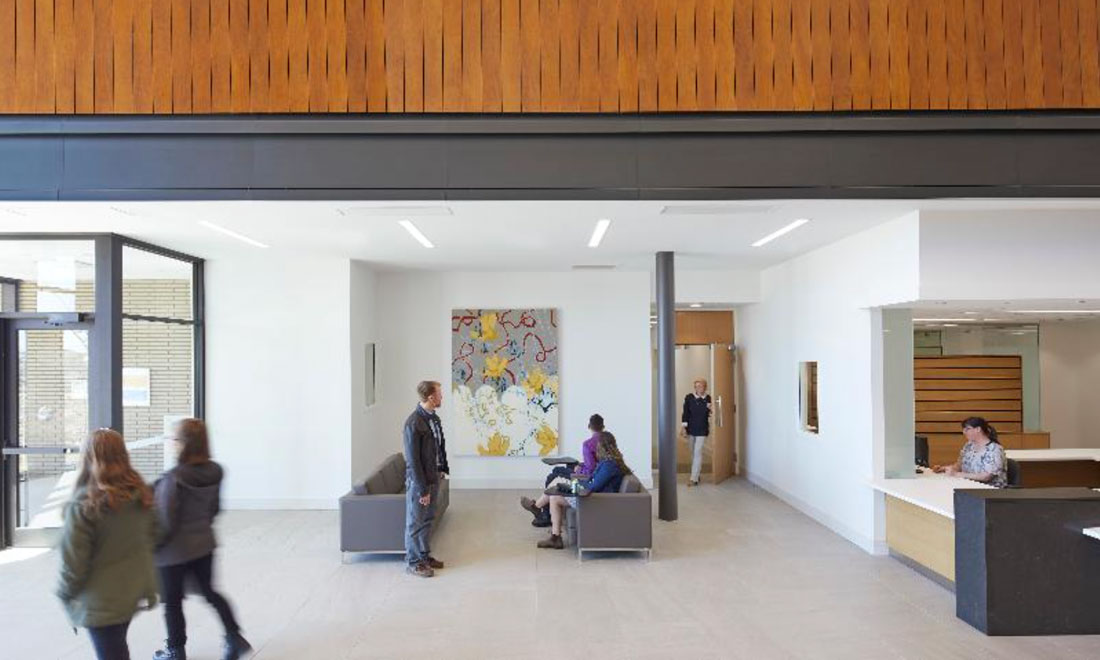 Citi Square lounge seating and local artwork welcome visitors in the lobby. (Photography by Lisa Logan)
As a nod to Northern Ontario talent, the project includes thirty vibrant works of art. Half were acquired through a generous anonymous donation, and the remainder is on loan through a partnership with the local WKP Kennedy Gallery. Installed throughout the building, the artwork animates the space and connects with visitors who might not otherwise engage with art.
"It is a hopeful place," says Carlyle of the completed project. "Communities like North Bay need welcoming, beautiful public spaces. The character of this environment begins to shift attitudes so that everyone feels [like they] belong here."
---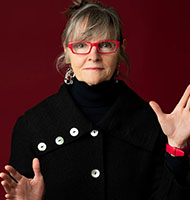 Anne Carlyle RCA ARIDO IDC LEED AP is an award-winning interior designer with more than 30 years experience in the planning and design of healthcare and other public environments. Anne is known for her work in facilities for children, community organizations and those with special needs.
Enjoy this article? Don't forget to share.
---