Designing for dementia and moving away from a one-size-fits-all approach
Notes from the field | March 03, 2022
COVID-19 has highlighted many shortcomings within the long-term care (LTC) sector, including the lagging attention to the needs of dementia residents. With the number of seniors who are expected to live with cognitive decline set to increase dramatically, it's time to rethink our approach to caring for these individuals.
We spoke with Aliki Gladwin, Principal and Founder of Aliki Gladwin & Associates from her studio to understand her insights into how COVID-19 has impacted the health of dementia patients, along with her thoughts on how design can improve the quality of life for those in LTC.

How have the changing needs of LTC patients influenced the way we approach LTC environments? What impact has COVID-19 had on this approach?
Over the years the demographic of the average LTC resident has shifted. There is now a growing population of seniors who are living longer and thereby present with co-morbidities, particularly dementia. As a result, we are experiencing a trend toward creating LTC facilities that use an acute care design approach as a way to deal with the wide range of complex needs present within their resident populations. COVID-19 has accelerated this trend to treat LTC more like hospitals than homes, as the perception is that this is the only way to support the Infection Protection and Control (IPAC) protocols necessary to control outbreaks. However, the environments are often becoming too clinical, cold and antiseptic feeling. We have homes that feel more like hospitals – and who wants to live in a hospital? If hospitals are now being designed to be more residential to help the healing, health and well-being of patients, why isn't LTC getting the same consideration?


Why is current LTC facility design failing dementia patients? What are the consequences of a one-size-fits-all approach?
In most LTC facilities, dementia patients are placed on special, designated floors. However, what I have found in most government health facilities is that the architectural plan hasn't shifted to accommodate dementia-related needs. For example, things like color, lighting and texture are perceived differently by those with dementia compared to those without cognitive declines. These changes in perception often lead to confusion, which creates stress for the residents. Stress in dementia patients can manifest into issues like agitation, aggression and other harmful behaviors to themselves and others that reduce quality of life. So, we need to ask ourselves, "How can we make these floors different, how can we design to make their lives better? How do we make a facility feel safe and more like home?"

How do we respond to the specific needs of dementia patients in the LTC environment to improve quality
of life?
There are several areas where we can help dementia patients improve their quality of life:
1. Lighting
Many dementia patients have issues with their sleep cycles. We've seen that introducing circadian lighting systems
can help improve health through better sleep. Really, LTC homes should have better lighting everywhere - not just
monolithic fluorescent, but more nuanced, varied light. It's not an office, it's important not to light it like one. We really need to create that living room environment. Adding accent lighting like table lamps allow us to create pools of light that shape the space and add a point of comfort, as well as a visual marker that says 'home'. And it can still be safe. Lamps can be weighted to be safe and shades can be specified in a material that can be cleaned and disinfected.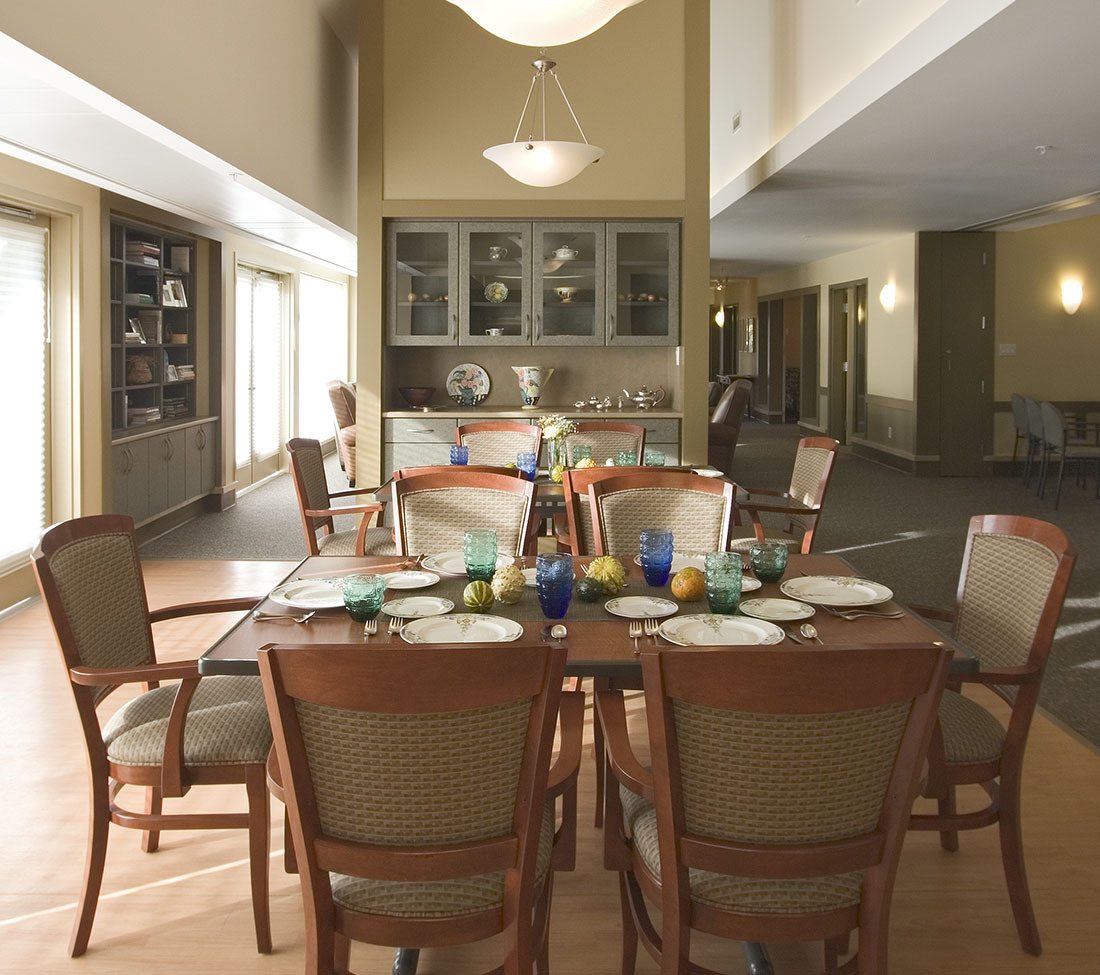 Accent lighting over the dining table creates pools of light and a more home-like atmosphere at Salvation Army Hospice House.

2. Color, softness and texture
As dementia progresses, it impacts all the senses. For example, residents may lose the ability to differentiate colors.
Or, they may experience reduced depth perception. For example, dark patches on a floor, such as black tiles alternating with white ones, can look like dangerous holes to dementia patients. Bright colors can also agitate dementia patients. Blues and greens are more soothing choices.
We need to consider sensory stimulation – the activation of one or more of the senses – within the space, and how it
can help people with dementia call up positive memories and emotions, and encourage them to communicate and engage with the people around them. That's why I feel it's so important to take the time to source and plan with
comforting and home-like accessories like a nice blanket or pillows – little things that add something soft, emotive and comforting. We can also incorporate decorative items that reflect the facility. It doesn't take a lot of money, but it takes time and care.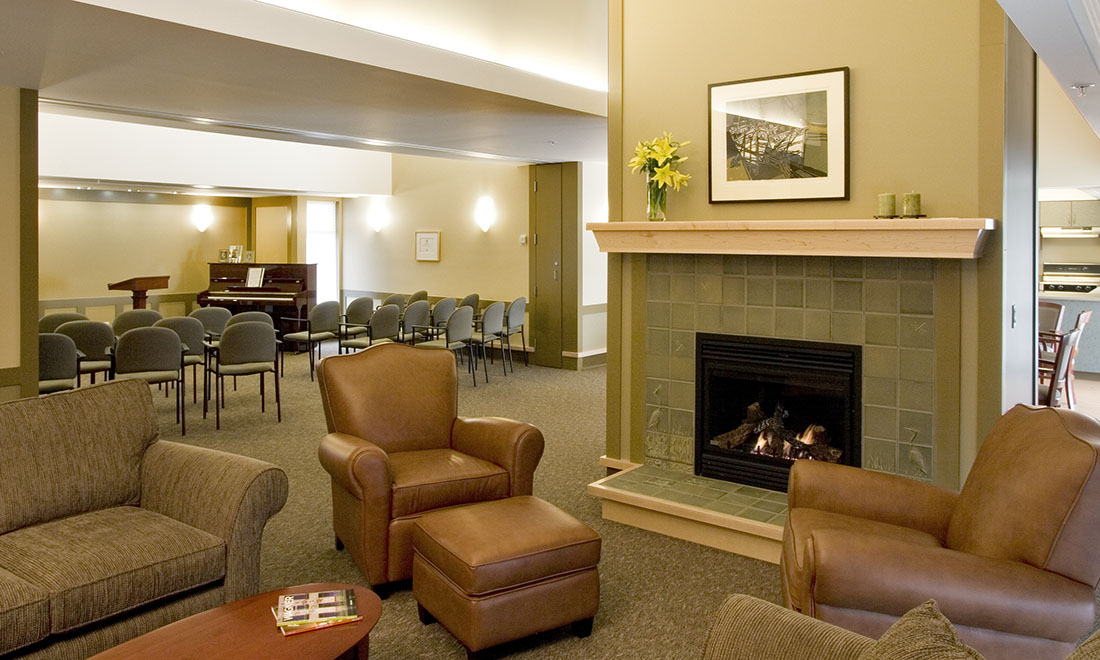 Soothing colors and soft textures create a sense of comfort for residents at Salvation Army Hospice House.

3. Moments of connection
It's important to keep a sense of connection between people – not only in an emotional sense, but physically as well. Too often we use single lounge chairs in the living room areas of LTC that allow for residents to sleep in the chairs. Let's design in more loveseats so residents are able to touch (hold hands, etc.) and be physically connected with the ones they love. There are furniture options out there that allow this while featuring the right foam density, arm heights and widths seniors need to get up and down.
It's also important to create moments of memory and connection for residents. Most people who have dementia relate to the past versus what's happening around them now. A lot of places have their little memory box that relates to who they are. But memory moments should be spread out across the floor – not just at their room. For example, in Villa Cathay Care Home, a non-profit senior care home, we included photography of architectural markers and places from the community so they can feel connected. And in Dania Home, an LTC facility for the Danish community, we found fabrics that reflect a Scandinavian aesthetic. In both places, the intent was to connect the common spaces with things residents can relate to, objects that trigger different thought patterns, happy memories and alternate ways to communicate. Creating these moments can also enable dementia patients to pause for a moment. Additionally, a small element like creating a window seat along a hallway can be beneficial for those who have the urge to walk continuously. It provides a moment of rest and reflection – maybe they don't walk to exhaustion and become agitated.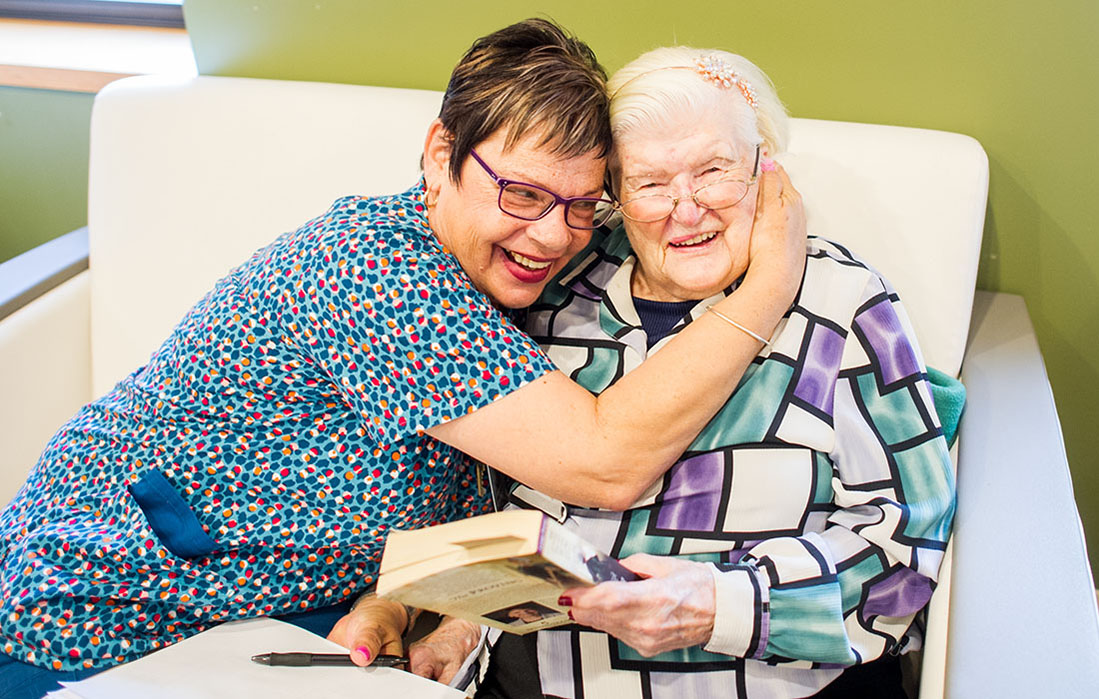 What would you like to see moving forward in LTC?
We need to expand beyond window dressings and furniture to consider the context of place. Place in terms of designing a space to tie into the community it is situated in, as well as the identity of the people who will inhabit it. Also, I think it's essential to keep seniors within the community in which they have lived their lives. That is ideal to me. To keep them close to 'home'.
Then, moving beyond design to truly establishing a sense of place, the home's programming should bolster the cultural mission of the residence. That means creating spaces where a strong community of loved ones and volunteers can feel safe and welcome. Happiness happens not just when a resident survives a pandemic, but when a resident is able to feel connected and at peace with who they are – and feel at home at a place where they are spending their final days.
___________________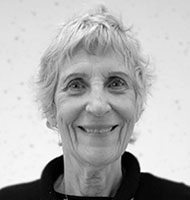 Aliki Gladwin, DID RID (Fellow) NCIDQ
Principal, Aliki Gladwin & Associates
From an early age, Aliki expressed an interest in interior design so her pursuit of a career in the industry came as no surprise. After graduating from the Interior Design program at Kwantlen Polytechnic University in the late 70's, she began honing her skills at a large architectural firm; where she was responsible for the Interior Design Division.
After establishing her own firm in 1985, Aliki achieved IDC Fellowship status and continually supports and encourages her own designers to do the same. Aliki's love of interior design began with corporate work and over the years has grown to encompass a wide variety of healthcare and community work as well. Aliki places a great deal of value on maintaining strong and respectful working relationships with clients and members of the design community. She recognizes the importance of mentorship and shared knowledge, and consistently gives her time to the design community; participating as a member on multiple boards for the IDIBC and for Universities.
Raised in a Greek Canadian household, Aliki loves to share her home and cooking with friends and family. This warmth translates to her designs; where her love of unique handmade products transforms a space into something special. Aliki prides herself in designing personal spaces for her clients; drawing on inspirations from her travels and her appreciation of different cultures.
Enjoy this article? Don't forget to share.
---