The perils and promise of long-term care post COVID-19 from a staffing perspective
Notes from the field | February 24, 2022
COVID-19 has proven to be a tragic wakeup call for better living and working conditions in many long-term care (LTC) homes. While many have repeatedly been calling for an overhaul of the sector even before the pandemic struck, the crisis has brought into sharp focus its shortcomings, from staffing to infrastructure to Infection Protection and Control (IPAC).
We spoke with Irka Dyczok, Principal of Designfarm about the interconnectedness of staff and resident experience in senior care homes during the pandemic. Drawing on her 30+ years of insight gained from designing senior living spaces, Irka shares some of her thoughts on how we can improve the quality of care moving forward by improving staff experience.

Why has staffing been such a pivotal concern since the onset of this pandemic?
Staffing has been an issue long before COVID-19. Historically, healthcare workers, nurses and PSW's alike, despite the fundamental importance of their work, are typically overworked, undervalued, underpaid and underserved. Working eight-to twelve-hour shifts, they take on the care of more and more residents with complex and demanding needs.
Given the current state-of-affairs, it has been difficult to attract new people into the industry, let alone retain existing staff. Now, add a pandemic into the mix, and systemic problems of understaffing and overworking within the caring profession has become endemic, leading to disastrous consequences for residents.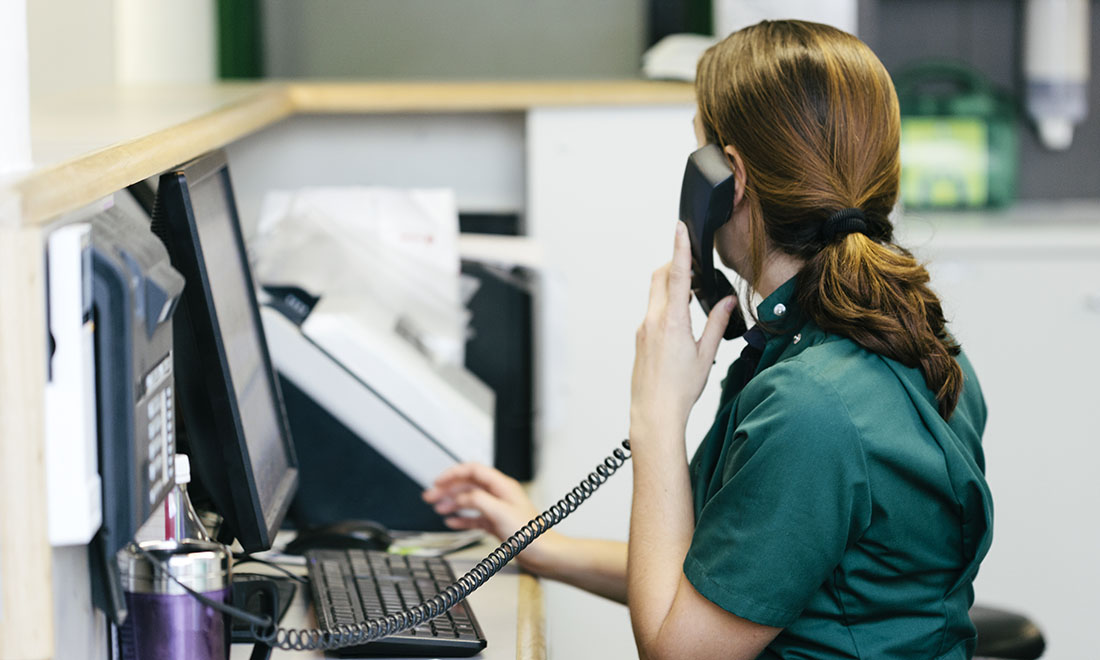 As an interior designer, how do you begin to address these issues?
Well, as a profession, we cannot fix staff employment practices or hiring of more staff, however we can help create
environments that support staff happiness and well-being. In many ways it really is not different than any other
workplace (like tech for example) where great interior design is used as a key tool for attracting and retaining staff.
Right now, spaces for staff in long-term care homes are too often treated as an afterthought. Back-of-house spaces fail to provide the necessities for a comfortable day's work. People say we should design for the residents and their families, and yes, we should, but we must equally be thinking about how we design for the staff. They are essential to contributing to the health and well-being of everyone in the space. Here are some ways we can design better spaces for staff:

Design more storage
Healthcare workers will change out of their street clothes and shoes when they arrive at work. Having your coat pool over your muddy boots in a cramped locker or piling up your shoes with others is not only demoralizing but is also
unsafe from an IPAC perspective. Providing lockers that are large enough to store all one's gear, especially winter coats and boots, umbrellas and other items is a small detail, but when provided, makes a huge difference.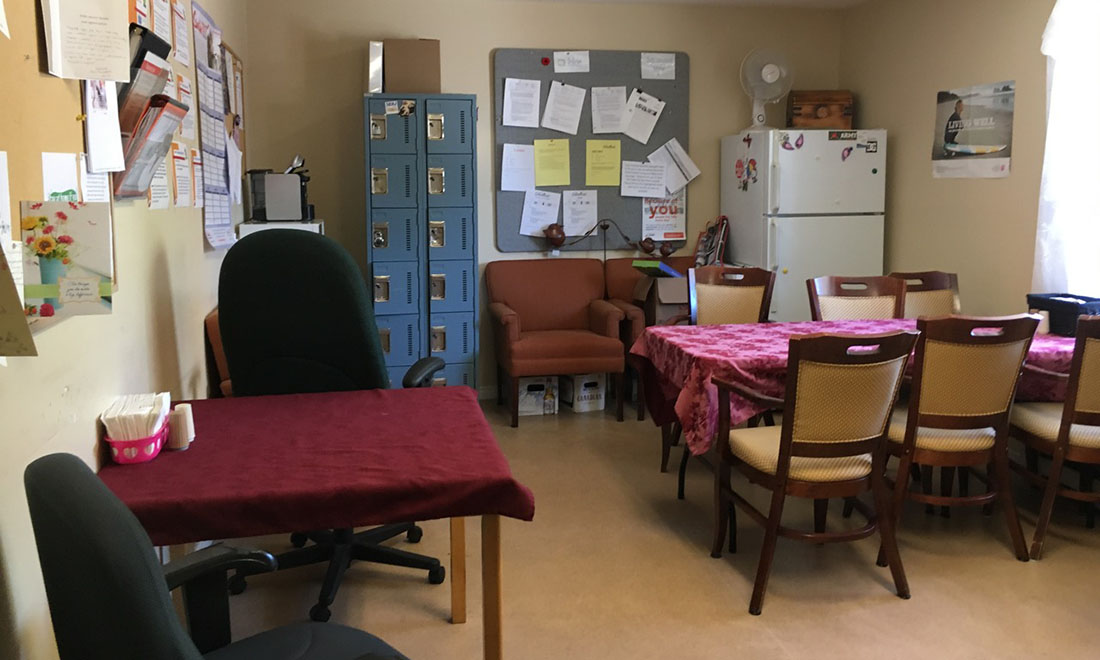 The reality of staff areas in senior care environments: cramped, dark rooms with inadequate storage for personal belongings and amenities.

Design spaces to relax, refuel and recharge
Staff shifts are long, often up to 12 hours. Staff should not have to grab lunch in a cramped, stuffy, windowless break room. We need to design welcoming spaces for staff to rest, recharge and refuel. This includes designing light and airy staff lounges with comfortable seating and appropriate amenities, including ample size refrigerators and microwaves to store and prep food. Additionally, we need to plan for private spaces where staff can get a moment of respite or make a phone call.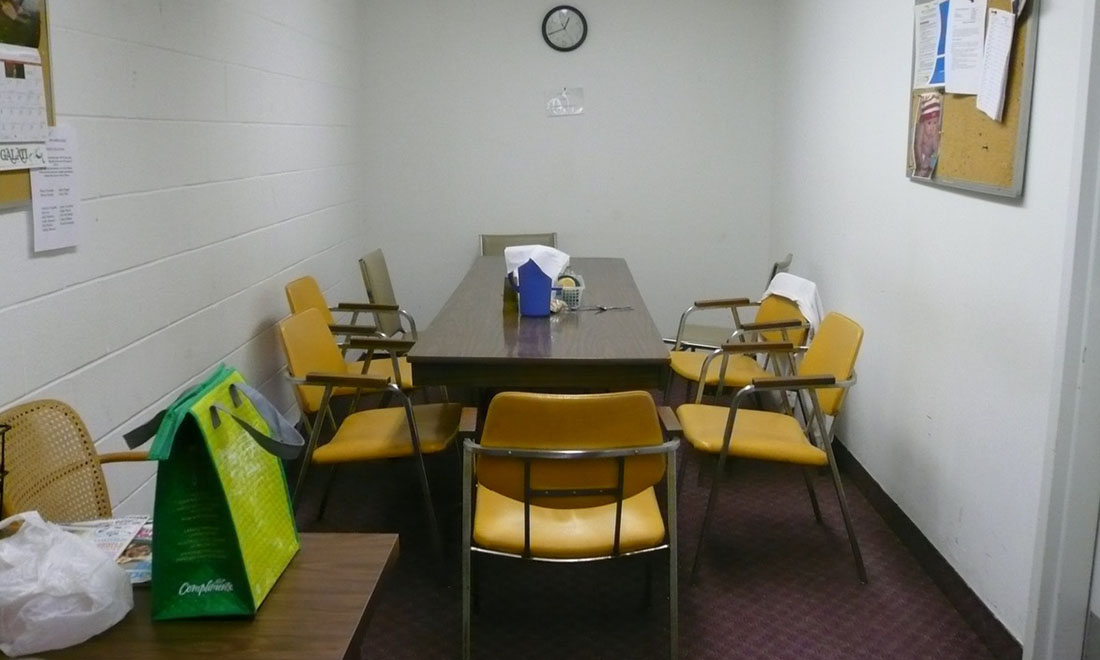 Break rooms often feature a mis-mash of leftover furniture and lack of kitchen facilities.

Design functional nursing stations
Nursing stations are the nerve centers of a residence and they should be designed to match workflow. I have seen
some of the most disastrous nursing stations. They can be so cluttered, so chaotic. We may think we live in a paperless society, but staff still receive faxes from pharmacies, physicians etc., and paperwork can really pile up. I have watched nurses duck behind their nursing stations to get their paperwork done without the residents disturbing them. Designing better nursing stations that support privacy, paper storage and workflow can make a huge difference in their day.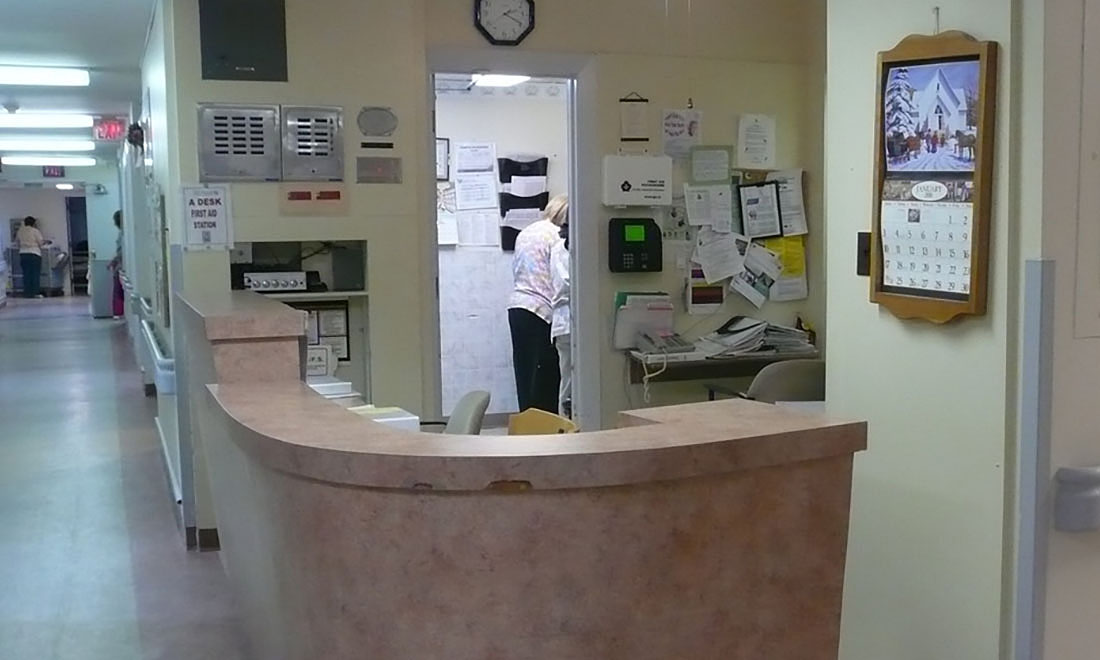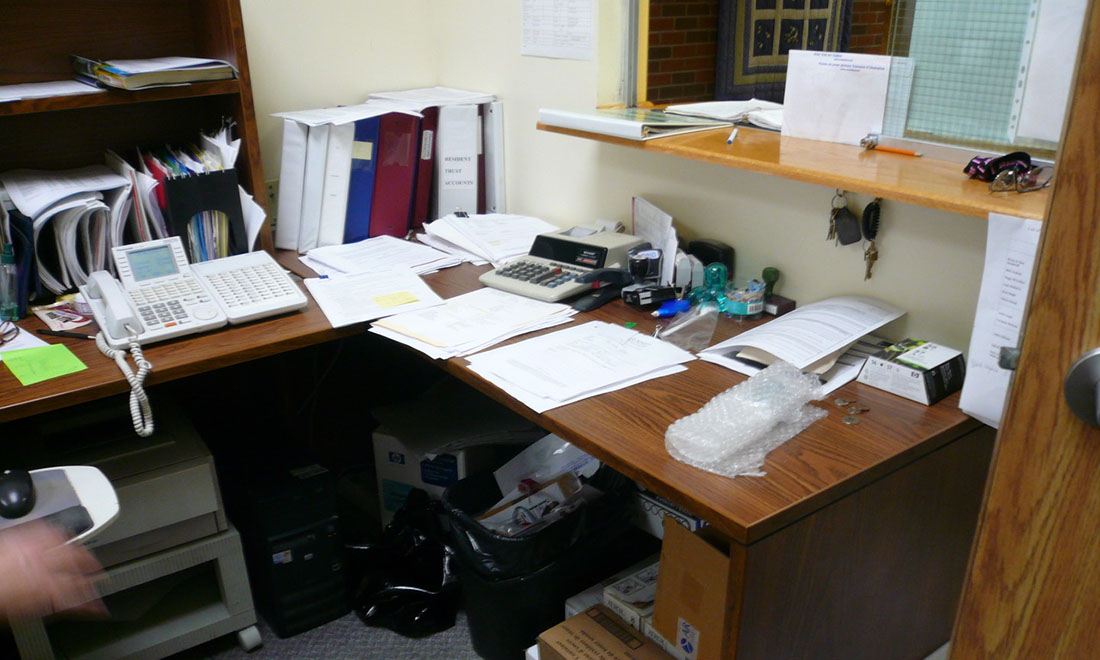 Nursing stations overflow with vital paperwork while the ability to conduct confidential phone conversations is almost impossible.

Specify appropriate materials and finishes
When specifying finishes and materials, not only for furnishings, but for base building interior spaces, interior designers need to be making informed decisions. Education in IPAC, ergonomics and building codes, awareness of maintenance protocols and a prudent approach to timelessness (durability and aesthetics) should be top of the list.
Take flooring as an example, in the context of staffing, when various options are being considered. It is imperative
to consider the physical impact of staff spending up to 12 hours on their feet. Non-supportive flooring can be punishing on joints and backs. Considering commercial grade materials such as rubber or cushioned vinyl sheet flooring (with some sound absorption as well) can pay dividends in terms of comfort, safety and well-being.

Extending amenities beyond designing environments
Finally, what if we could expand the concept of providing amenities for staff to include services beyond the design of their spaces? Like the private sector (and to attract and retain staff), why not consider providing services that could help make their lives easier? For example, providing staff access to personal services, like food and spa services. These services are offered to the residents, why not offer them to staff as well since the infrastructure is already in place?
If we can make their day better, or organize their space in ways that help them get their job done more efficiently, then we have taken one step further toward helping them feel like they are an important cog in the wheel. After all, staff do the lion's share of caring for our loved ones, so why not provide beautiful spaces that care for them as well?
___________________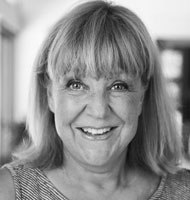 Irka Dyczok
CEO, Designfarm, B.I.D., ARIDO
Designfarm is a boutique, multi-disciplinary interior design firm led by Irka Dyczok. Irka founded Designfarm in 1992.
With a bachelor's degree in Interior Design from University of Manitoba and a master's degree in Industrial Design at Domus Academy in Milan, she honed her talents at several of Canada's leading architecture and design firms. Drawing inspiration from nature, Irka continues to share her grounded approach, innate understanding, authentic creative instinct, and passion for excellence with all of Designfarm's clients.
Designfarm is a recognized leader in the design sector for senior living. As CEO, Irka has worked closely with many clients on long-term care homes, assisted living, memory care and independent living communities.
Irka Dyczok is a long-standing member of ARIDO (Association of Registered Interior Designers of Ontario) and IDC (Interior Designers of Canada). Energetic, empathetic and engaging, Irka is recognized for design solutions that meet the unique challenges of our time.
"An enlightened approach to design can positively impact the resources of every person who experiences an environment. All decisions – big and small – make an enormous difference in how people live, work and feel in a space." – Irka Dyczok
Enjoy this article? Don't forget to share.
---