Is Benching Here to Stay?
Trend | March 14, 2019 | Beatriz Sanchez
With their love for technology, collaboration, and connections, Millennials have changed the workplace. From the moment this generation entered the workforce, companies made the transition from cubicles to benching to accommodate their need of working closely with each other.
This transition also has an implied economic benefit for the companies that adopted the trend. Benching is a cost-effective office design that saves up to 22 to 26 percent in real estate. Since 2008, companies have given up 137.8 million square feet nationwide thanks to benching, according to real estate research firm, Reis.
However, after several years of experiencing benching in the workplace, employees have reported mixed reviews on its benefits. A lack of privacy, little elbowroom, and visual and audible distractions are some of the most common complaints.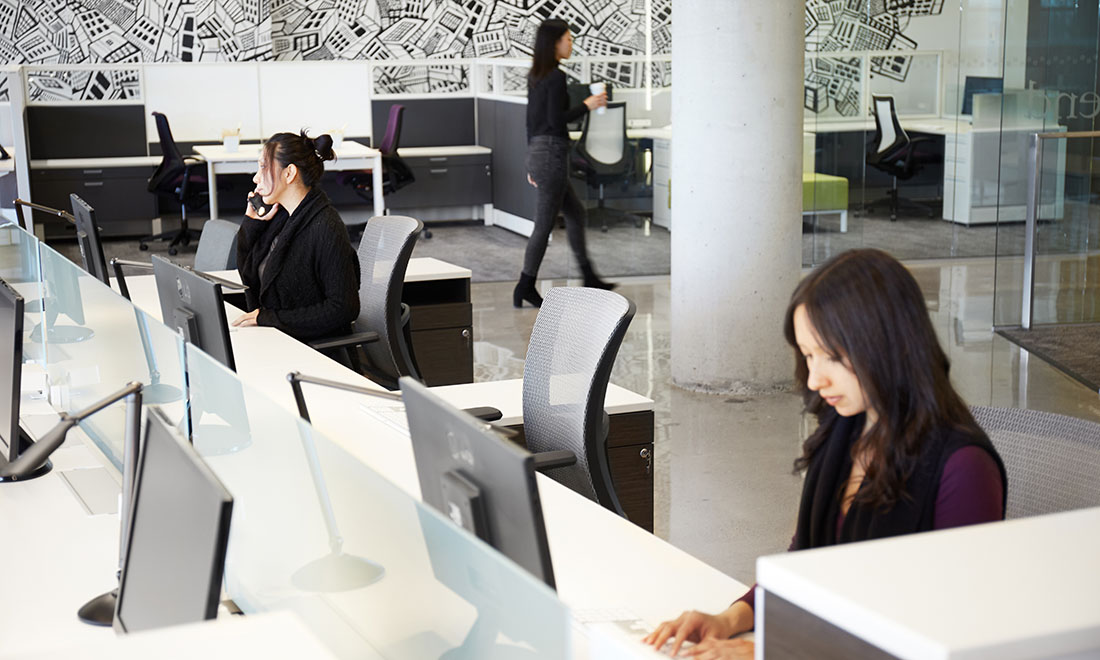 With the industry becoming aware of the disadvantages of benching, will benching remain the trend that dominates the workplace? Or will it be replaced with a new trend?
Award-winning designer, Johnson Chou, believes benching is here to stay, perhaps for another decade. "In the current workplace scenario, the benching workstation plays the 'nest' or 'touchdown' role for the employee. So long as diversity represents the apotheosis of workplace design, the humble benching station will remain as its bulwark."
Numbers seem to back up Chou's opinion. According to the Ted Moudis annual report, there continues to be a move from traditional workstations towards the adoption of benching. There was a 7 percent increase in benching systems sales in 2018, and the report predicts that the rise will continue in the following years.
Yuritzia Rodriguez, Vice President of Design at T+ Studio, also believes benching is here to stay. "But it has to be applied the right way," she says. "When you apply benching, you have to provide support spaces where employees can access private areas."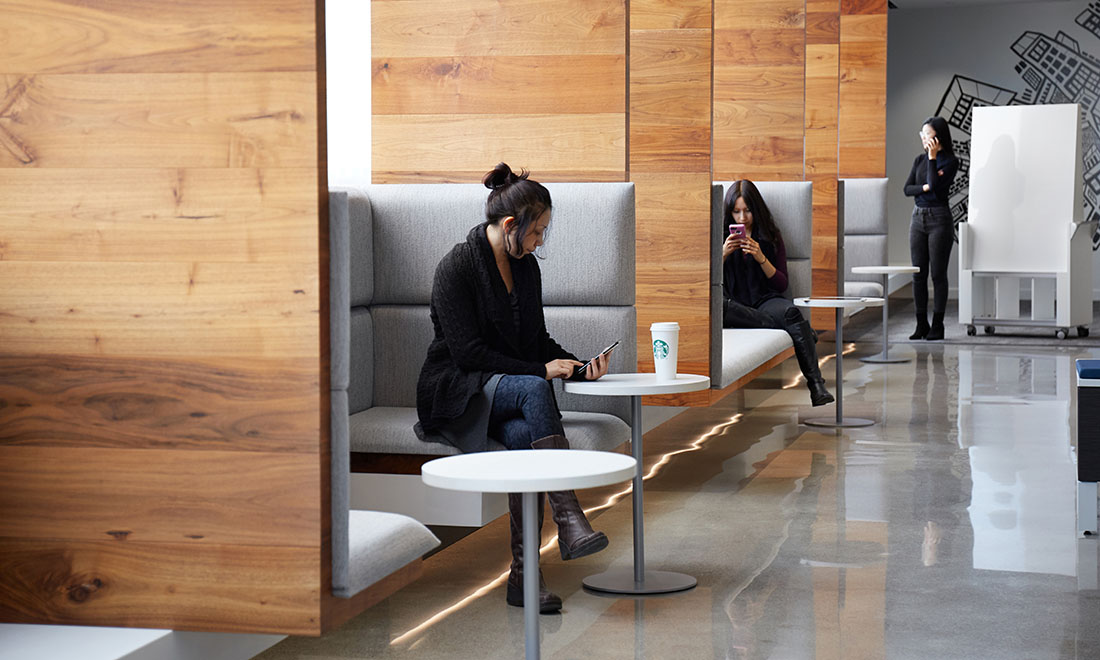 Rodriguez is not the only one who thinks benching alone is not enough. Companies are finding that employees crave choice when it comes to where they work. Employees need other environments that inspire them to be more productive. According to the 2019 Staples Workplace Survey, more than half of employees in the survey say benching creates distractions and 40 percent report their office space is too open, which makes it hard to work.
So what type of spaces is the industry looking to provide for employees? According to the Ted Moudis report, the largest shift in 2019 in workplace design will be an increase in spaces dedicated to mental and physical well-being, which highlights a shift in focus to employee wellness.
There will also be more meditation spaces, game rooms, as well as outdoor work and recreation spaces. These amenities accommodate the needs of Millennials and Generation Z, who are concerned with wellness, work-life balance and staying connected with each other.
The office pod, which is the latest trend seen in the workplac, could potentially complement benching at a very low cost. According to Fast Company, this new office product aims to fix 'the misery of the modern open plan office' and benching.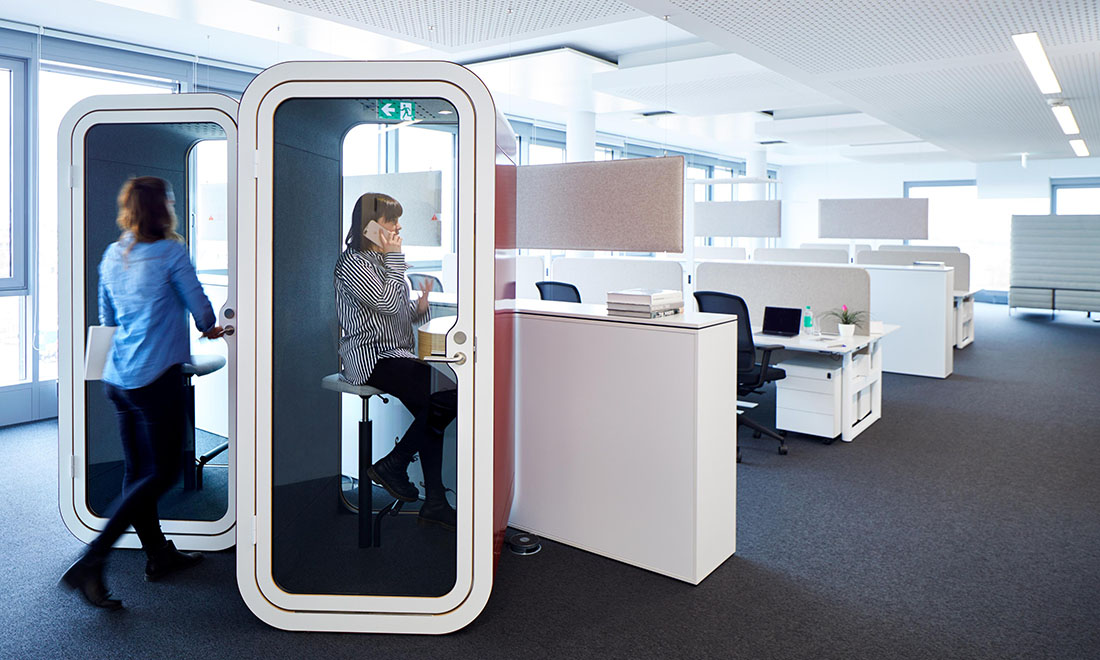 These micro-offices are temporary spaces meant for a few hours of work at a time, sold at a very affordable price. They are an office feature to provide privacy and focus when needed, and a possible solution to employees' need to have a choice when it comes to where they work.
"It is a trend that we are starting to see people interested in," says Rodriguez. "The ones we have seen are not too small, 6 x 6 is the smallest one I've seen, but it won't be replacing benching. It complements it."
Will these new spaces be enough to change how employees feel about benching? Are the micro-offices here to stay? Or will Generation Z, who are nearing their 20s and entering the workforce, change the workplace as we know it? Only time will tell.
References:
Ted Moudis 2018 Workplace Report https://www.tedmoudis.com/news
Staples Workplace Survey https://www.staples.com/content-hub/trending-topics/staples-workplace-survey-2019
Fast Company https://www.fastcompany.com/90305213/the-hip-new-open-plan-office-trend-cubicles
Reis. Real Estate Research Firm https://www.reis.com
Enjoy this article? Don't forget to share.
---