Designing for Healthcare: An Interview with Amy Keeler
Interview | February 06, 2018 | Beatriz Sanchez
The healthcare sector is one of the largest and fastest-growing industries of our time. It consumes over 10% of the gross domestic product (GDP) of several developed nations, and it forms a substantial part of a country's economy1—which is why it is no surprise a vast amount of capital is going into this market.
From a designer's point of view, designing furniture for healthcare is not exclusively focused on fashion or sales. The healthcare market requires special consideration in functionality—more so than any other sector. Even the development of the arm of a chair can take a whole year—sometimes even longer—before it is ready for production.
In order to understand this a little bit better, Amy Keeler, Industrial Designer at Global, walks us through the process of designing an arm. Keeler uses the loop arm she created for the River+ series—which she has been working on for the past year—as the perfect example: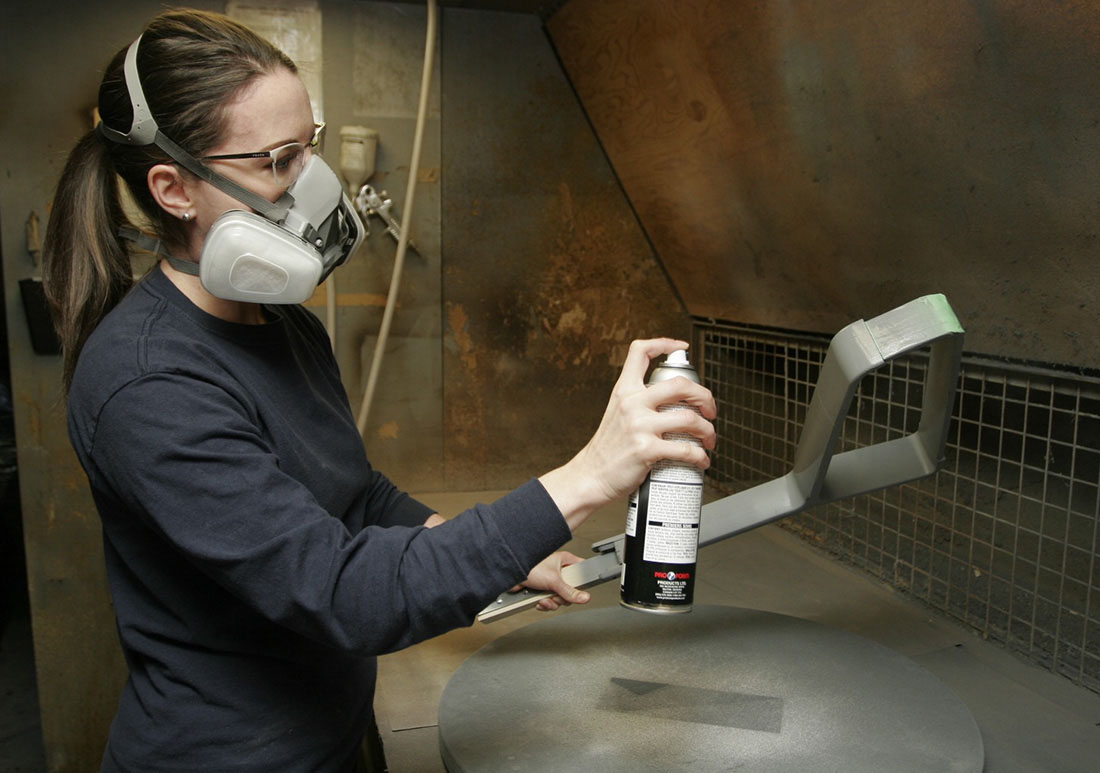 It Needs To Make Sense Visually
The aesthetic of the arm is important because, firstly, it needs to work with the existing series; there should be a similar visual language between the existing pieces and any new additions. And secondly, it needs to fit aesthetically in a healthcare or public environment.

Healthcare Has More Material Requirements Than Other Industries
Materials should be strong and durable—able to withstand high traffic wear and tear, as well as hold up to strong chemicals used in harsh and frequent cleaning.
[For example, when we picked the best suited plastic for this arm, we considered factors like] scratch resistance, rigidness, [and capability] to withstand harsh chemicals used in—we don't want the cap to break down over time.

Pay Special Attention To Feel And Function
More specifically, the ergonomic and comfort—where and how your arm makes contact with the arm cap; where your wrist rest on the front of the arm; the seated space between two arms; how the arm cap feels in your hand; and its height and width. In healthcare applications, there is a wide range of end users who will be making use of the product and it's important to consider [all of] this.
[For us,] the tactile quality of the arm cap was also an important consideration. In contrast to the cold touch often felt from metal, the arm cap should look and feel warmer.

Ability And Infection Control
Any areas where dirt and bacteria can collect and grow are a danger in healthcare design. Healthcare products should be designed without places to catch dirt and germs and [that] can be easily cleaned, [since] they are subjected to various and often harsh chemicals.
[For this arm,] we limited the amount of contact [it] has with other surfaces, creating space around the loop and upholstery for ease of cleaning. Other considerations included the contact points between the arm cap and die cast arm, keeping seams or cracks to a minimum.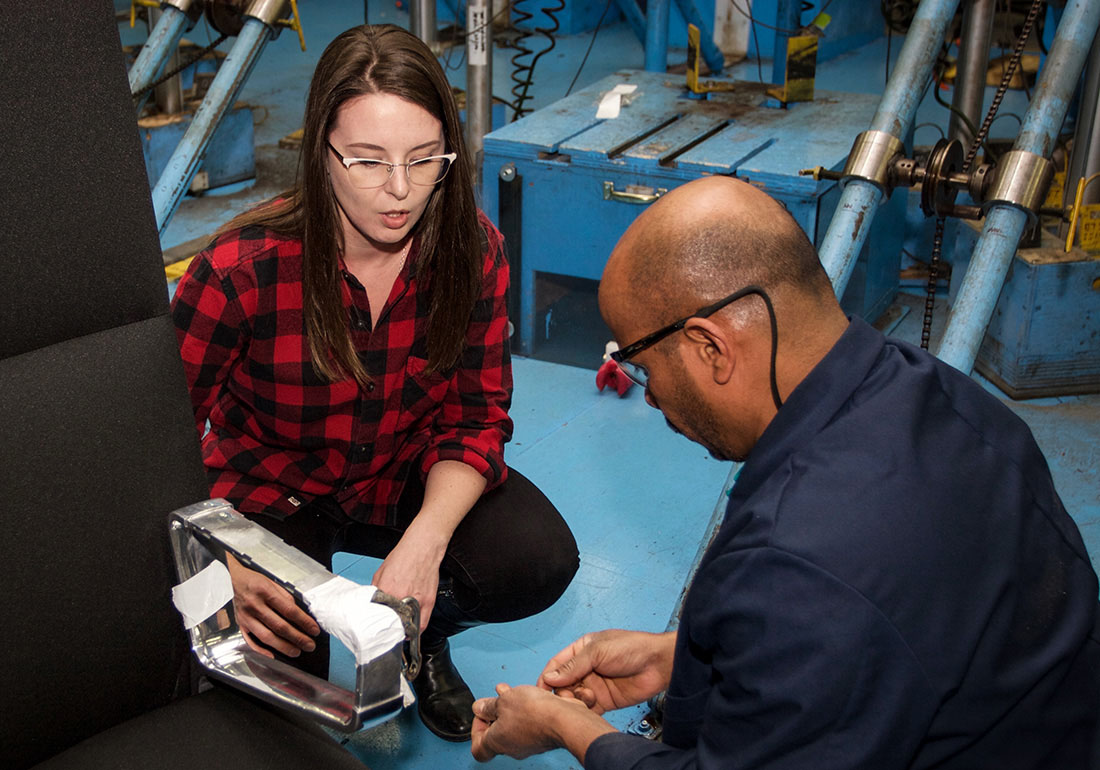 Testing should comply with industry standards
The arm is put through a series of strength and durability tests to properly assess its readiness for market.
In the US the standards association that defines the testing is BIFMA (the trade association for business and institutional furniture manufacturers). Based on the industry standards, this particular arm will undergo a series of 4 tests:
Horizontal arm static - a single large force or weight is applied once for a set period of time to the top of the arm.

Vertical arm static - a single large force or weight is applied once for a set period of time to the side of the arm.

Horizontal arm durability (or cycle) - a lesser force or weight is applied repeatedly (50,000 to 150,000 times) to the top of the arm.

Vertical arm durability (or cycle) - a lesser force or weight is applied repeatedly (50,000 to 150,000 times) to the side of the arm.
Once the initial tests have been completed we can assess the result and make appropriate changes to the design if necessary. In some case the testing process will be repeated if changes were required. In all, these tests give us an accurate understanding of how the arm will perform in real life situations.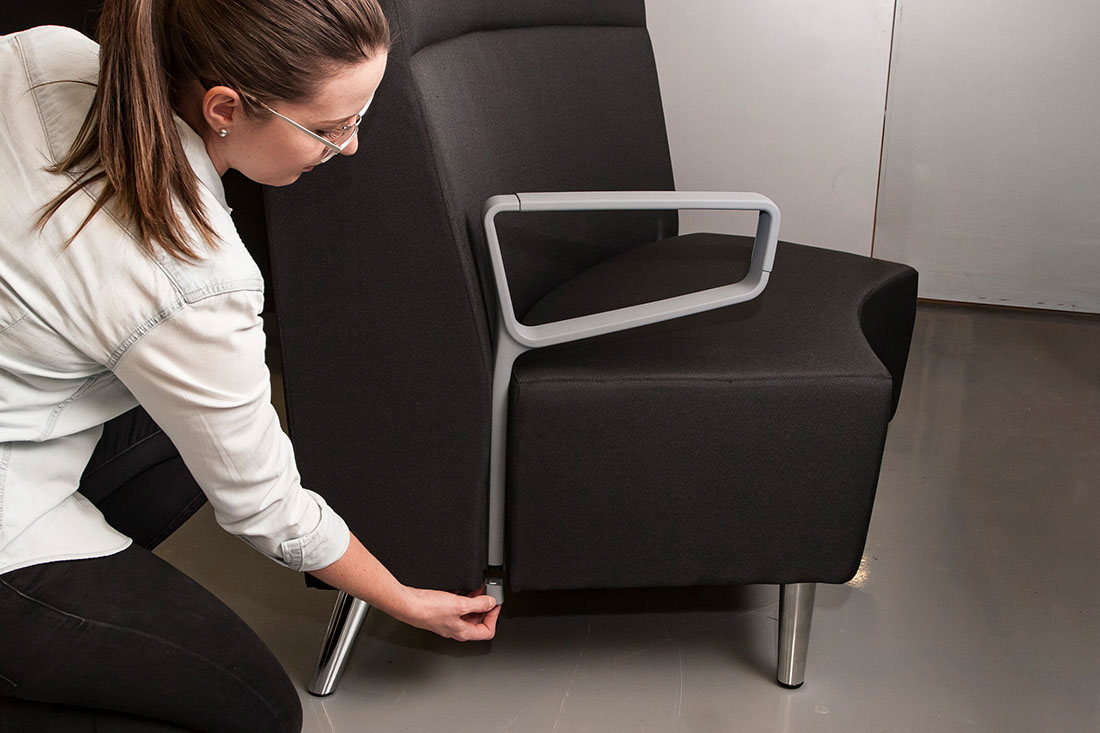 Do Not Forget About The Clean Out Gap
[Our] arm was designed to utilize the clean out gap for its location and connection.
The clean out gap allows for any liquids to flow directly to the floor and can be wiped/cleaned by hand. The continuous loop and wide surfaces that make up the arm lend themselves to ease in cleaning.
The width also provides good support for the arm in a rested position and grip for the hand when easing in or out of a seated position.
Enjoy this article? Don't forget to share.
---